Get to know our evaluation and development tools around UWB technology
MobileKnowledge is the first worldwide provider of a set of evaluation and development tools around UWB TrimensionTM technology from NXP Semiconductors for IoT devices, enabling all kinds of use cases with precise, secure and accurate positioning data of objects in real time.
MK UWB Kit SR150/SR040
The most comprehensive reference design and development platform for UWB-based IoT solutions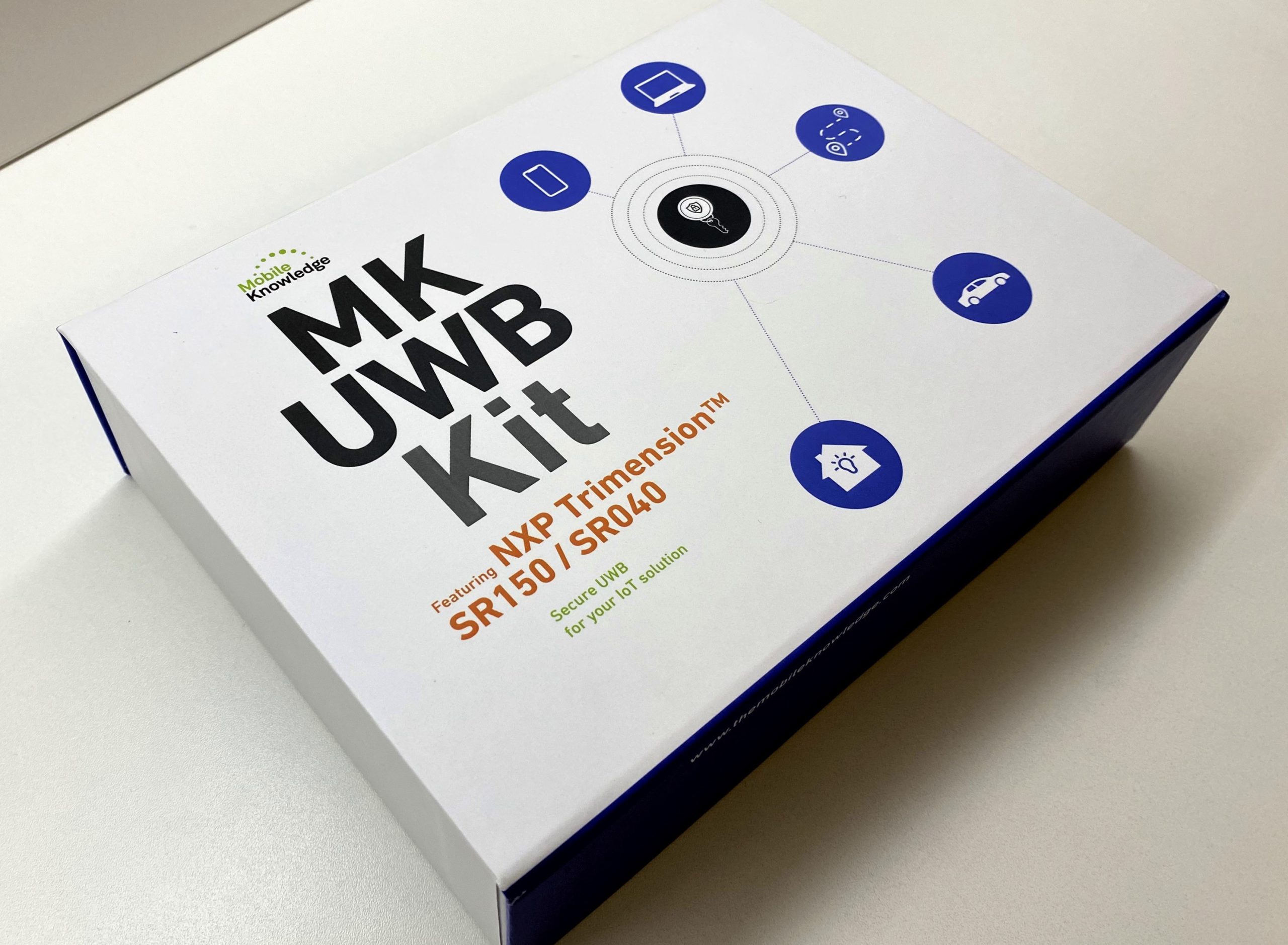 If you want to design your UWB solution or integrate UWB connectivity into your existing solution leveraging on NXP TrimensionTM technology the MK UWB Kit SR150/SR040 provides you a complete set of hardware and software tools as well as documentation and support from MobileKnowledge to get you started quickly and accelerate your time to market.
Experience UWB technology with ready-to-run demonstration apps, Arduino-connected development boards and software libraries to start prototyping and developing your own UWB applications with minimum effort.
Leverage on our powerful software tools such as the MK UWB Toolbox Android application to develop innovative mobile applications, the MK UWB PC Shell application to obtain ranging information on any host computer, the MK UWB Library which provides a simple to use but powerful API for your IoT embedded solution and out-of-the-box support for NXP QN9090 and Nordic nRF 52840 MCUs.
UWB Tag SR040, featuring NXP's UWB chipset Trimension SR040 and a BLE-enabled MCU

MK UWB Shield + MK UWB 3D Antenna board

, a fully integrated solution based on pre-certified new module SR150 from Amotech supporting 3D position information
Out-of-the box support for QN9090 and Nordic nRF 52840 MCUs
Trimension SR040 module and development setup using MK UWB Arduino shield
HW design files for UWB Tag SR040 and for SR150 antenna board
MK UWB Library exposing a simple to use but powerful API that abstracts both Bluetooth LE and UWB HW
MK UWB PC Shell, a PC application to support data logging and evaluation of UWB ranging data
MK UWB Toolbox, the reference Android application
Reference UWB use cases (Distance alert, Tracker)
Quick Start Guide, User Manuals, UWB Modules datasheets, MK UWB SDK porting guidelines, Application Note for AoA
Distance alert use case, showcasing how to easily implement contextual actions based on proximity using UWB technology and NXP Trimension UWB ICs
Tracker use case, showcasing how you can leverage UWB ranging and AoA, NXP Trimension UWB ICs and MK UWB SDK, to track the 2D position of UWB-enabled devices or tags

16 different code examples as part of NXP UWB IoT software

Exclusive Online training
1st line support on kit content and use cases
Check details at: MK UWB Kit SR150/SR040
MK UWB Kit Mobile edition
The evaluation kit for Apple's Nearby Interaction framework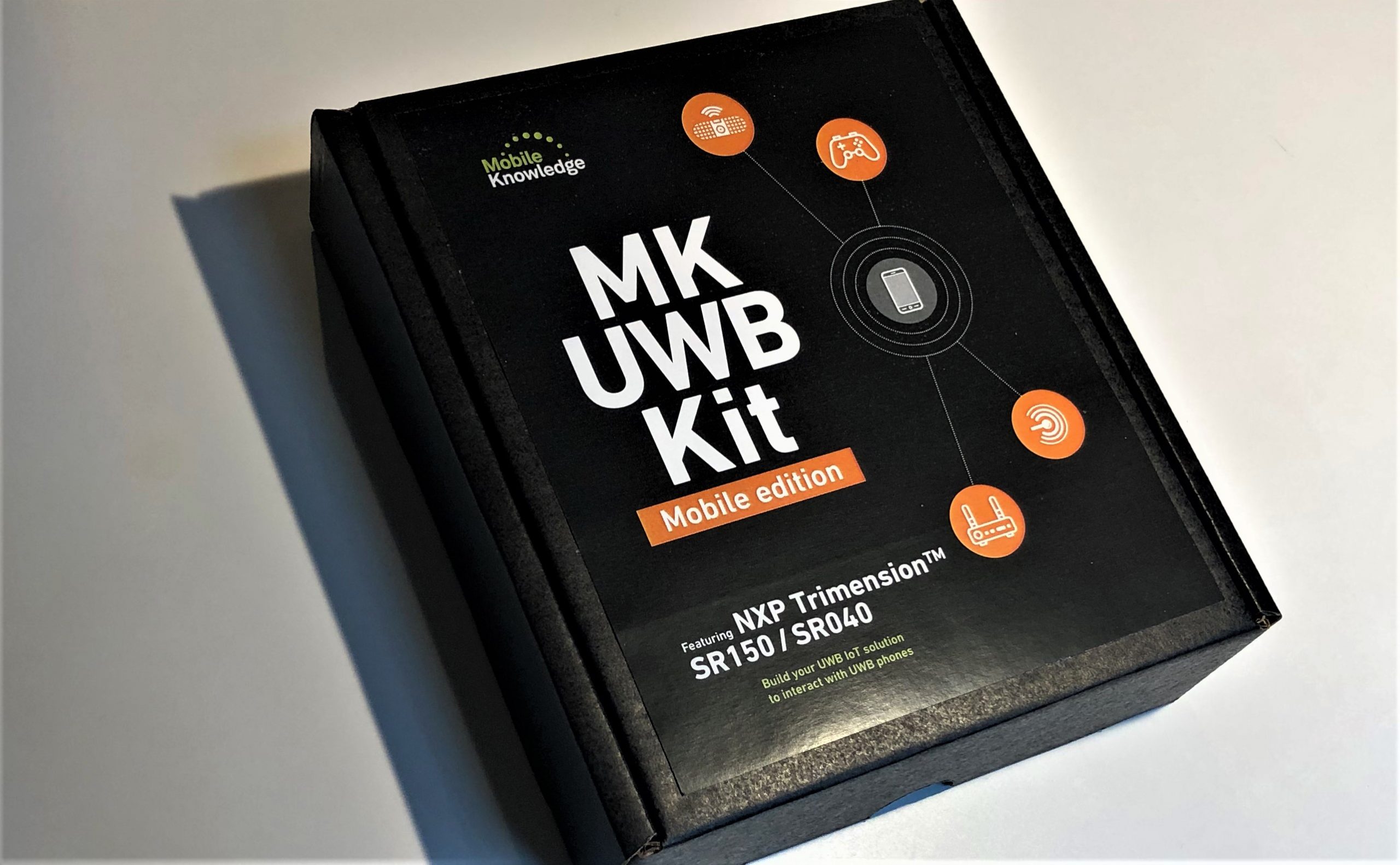 In case you want to explore iOS Nearby Interaction framework with third-party accessories, the MK UWB Kit Mobile Edition only requires that you turn on the Anchor or Tag device to start detecting it from an Apple U1 enabled product and enables you to focus on the iOS application development.
Ready for evaluation of Apple's Nearby Interaction framework with 3rd party accessories.

MK UWB SR150 Anchor 3D

(NXP's Trimension SR150) and UWB Tag (NXP's Trimension SR040)
Reference SR150 and SR040 software for Apple U1 Interoperabilty
Check details at: MK UWB Mobile edition
MK UWB Kit RTLS
The reference design and development platform for indoor UWB RTLS solutions based on TDoA.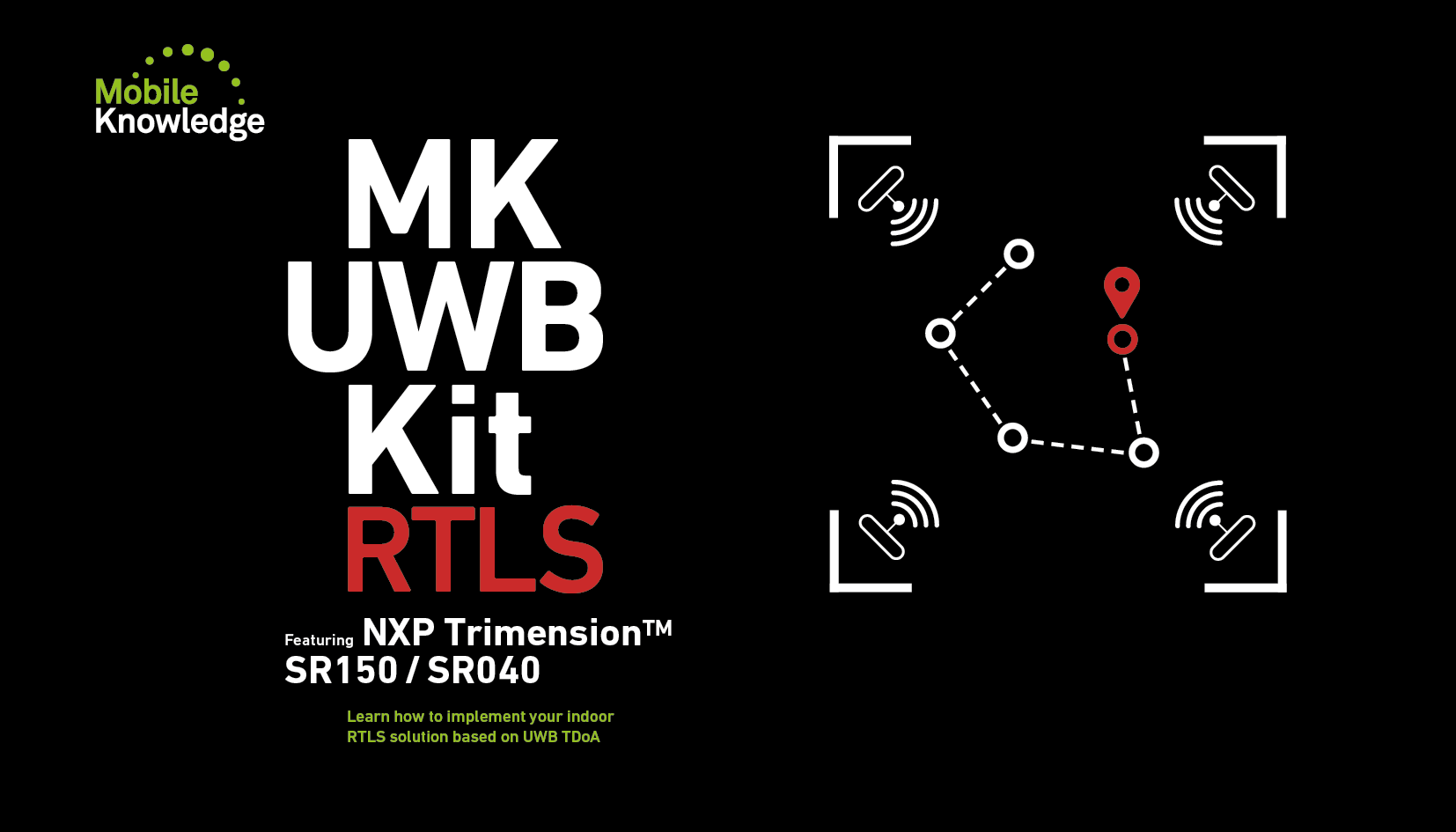 TDoA can be used to determine a device position by measuring the time it takes for a UWB signal to be received at several fixed anchor devices placed in the monitored environment.
Experience firsthand the numerous advantages of UWB for real-time positioning and use the tools and examples included in the kit to kick-start the development of your own RTLS solution based on NXP's TrimensionTM UWB ICs.
Experience how to track one or more UWB-enabled tags using fixed anchor devices leveraging on TDoA-based real-time positioning and leverage on our software demo to experience first-hand the capabilities of the technology.
MK UWB Anchor RTLS, as the back bone infraestructure of the RTLS system to track UWB tag devices
UWB Tag SR040, acting as tracked devices in the RTLS infraestructure
MK UWB RTLS demo collects the TDoA data from the anchors and executes the multilateration algorithm to compute the real time location of the tracked devicce.
Check details at: MK UWB Kit RTLS