MobileKnowledge is pleased to announce the release of the new MK UWB Kit RTLS, the ideal entry point to learn how to implement an UWB indoor Real Time Location System (RTLS) using Time Difference of Arrival (TDoA) multilateration technique.
TDoA can be used to determine a device position by measuring the time it takes for a UWB signal to be received at several fixed anchor devices placed in the monitored environment. Thanks to TDoA multilateration, UWB can be used to reliably compute the location of assets and people in indoor environments.
With the MK UWB Kit RTLS, leverage on UWB advanced functionalities from NXP TrimensionTM SR150 and SR040 UWB IC to:
Experience how to track one or more UWB-enabled tags using fixed anchor devices leveraging on TDoA-based real-time positioning. The MK UWB RTLS demo software allows you to experience first-hand the accuracy and capabilities of this indoor-tracking technology.
Kick-start the design of your own UWB RTLS solutions by leveraging on the hardware and software examples provided with the kit.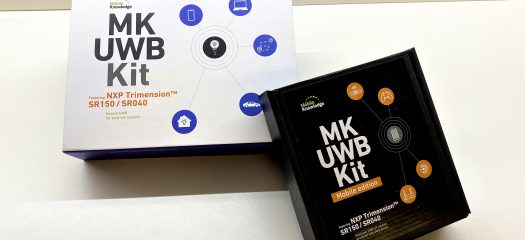 Get to know our evaluation and development tools around UWB technology