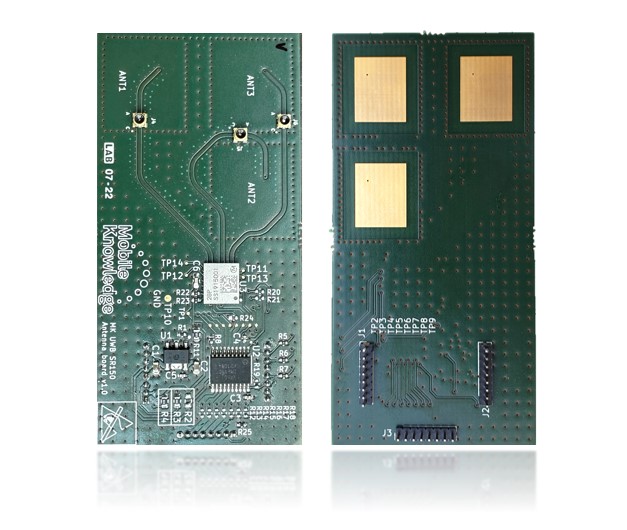 The MK UWB 3D Antenna board includes a reference 3 patch antenna design allowing the user to obtain the 3D position of UWB-enabled devices, in combination with Murata's Type 2BP, the world's smallest UWB module featuring TrimensionTM SR150.
Experience UWB technology new features and functionalities with this fully integrated solution supporting 3D position information.
With the MK UWB 3D Antenna board:
Now integrating Murata Type 2BP UWB Module 

Fully integrated solution based on TrimensionTM SR150 supporting 3D position information
Pin-to-pin compatible with the existing MK UWB Antenna board SMD (plug and play replacement)
Reference hardware design files available for the acceleration of your design and development activities
Released and validated with production-ready NXP's UWB IoT Software together with MK UWB Shield 2
Optimized for UWB Channel 5 and 9 operation and calibrated Angle of Arrival data available off the shelf for you to focus on your own use cases and applications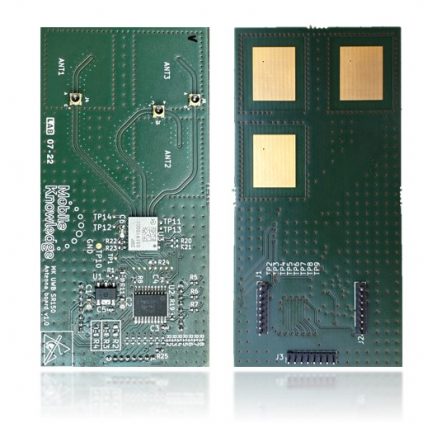 MK UWB 3D Antenna board
Now integrating Murata Type 2BP UWB Module!
UWB Module-compatible PCB that can be easily connected to the MK UWB Shield 2 and 1v3 using the pin headers. Ready-to-use solution that features three PCB antennas, enabling ranging, 2D, and 3D Angle of arrival measurements as well as TDoA:

70x34,5mm dimensions
Supporting 3.3 and 1.8v power supply and signal interface
Accessible RF connectors for calibration/testing purposes
Murata Type 2BP UWB SR150 Module
Murata Type2BP is the world's smallest UWB module and includes NXP's SR150 UWB chipset. It is FiRa certified and is ideally suited for deployment in both larger infrastructures (indoor positioning anchors) and in consumer products and general IoT devices with battery operation.
This UWB Module regroups the core functionality of the UWB solution (clocks, filters, switches and passive components). Compatible with secure UWB ranging, 2D & 3D Angle of Arrival, and TDoA. Suitable for Anchor devices.
Production ready software, reference hardware design files, and up-to-date documentation to enable you to focus on your own application and use case leveraging on UWB technology.
Includes detailed guidelines on how to calibrate 3D AoA measurements using the new antenna board and provided software as well as reference results obtained against peer UWB devices.
The material included with the new MK UWB 3D Antenna board is:
MK UWB 3D Antenna board schematic, Gerber, and eBOM files
AoA evaluation with MK UWB 3D antenna board
NXP UWB SR150 production-ready SW
SR150 Module migration guidelines
SR150 Module datasheet
SR150 Module FCC, CE, UKCA certificates
Short summary of the results available:
Improved measurement accuracy and stability versus previous antenna board
Angle of Arrival calibration applied
Effective both on Channel 5 and 9
Want to do more?
Long-standing expertise in UWB technology to help you reduce your time to market and focus on your own UWB solution development:
UWB technology consulting and support services: Guidance on use case definition and system integration, system architecture, software requirements, Q&A resolution, FIRA related process and use cases,…
Development of customized UWB use cases: embedded software development, mobile application software development, back-end integration, system integration,…
Design and development of customized antenna board based on customer requirements and constraints in order to optimize ranging and AoA measurements
Porting of MK UWB SDK into a customer platform, enabling MK UWB SDK software tools and functionalities on any customer platform that meets the SDK requirements
Licensing of MK UWB Library, for an easy integration of UWB technology while accelerating the time to market