The owner of the website www.themobileknowledge.com ("Website") is the company AVANT STUDIO PROYECTOS, S.L., ("AVANT STUDIO PROYECTOS, S.L."), whose identification data are the following:
Registered address: c/ Balmes 448 – 08022 Barcelona
Tax Identification Number: B-64624067
E-mail: mk@themobileknowledge.com
Registry data: recorded in volume 39.840, fol. 0082 and sheet number 353.436 of the Commercial Registry of Barcelona.
Privacy Policy
This Privacy Policy applies to all websites and web applications which link to this policy and are published by Avant Studio Proyectos, S.L. and all its subsidiaries.  MobileKnowledge is a trademark of Avant Studio Proyectos, S.L.
If you have any queries about how we use your personal information, please contact our Privacy Officer at contact@themobileknowledge.com.
Information we collect
This section details the information we may collect about you. We explain why, and how, we use it in later sections.
Corporate contact details: Name, Company ID, Company Address, Corporate Email, Corporate Phone
Message: The content of your communication
Information we obtain through cookies and similar tools
We use cookies (and similar technologies) and analytics tools across our Sites to collect information about you. This information can be used to improve the performance of the site and enhance your user experience. We provide detailed information about cookies and similar technologies within our Cookie Policy; examples include:
Your location: we use cookies to display information of the site that is most relevant to your location.
Your usage: we use cookies to understand how our customers use our Sites.
Your device: we use cookies to understand what type of device you are using to show you the best version of the site.
If you wish to manage your cookies, please follow the instructions in the "How to manage cookies" section within our Cookie Policy.
Web beacons
We use web beacons on our Websites and in our emails. When we send emails to newsletter members, we may track behavior such as who opened the emails and who clicked the links. This allows us to measure the performance of our email campaigns and to improve our features for specific segments of members.
Lawful basis for processing
We only process personal information where we have a user consent: this is where you have given us explicit permission to process personal information for a given purpose. For example, if you complete one of our communication forms, we would ask for your consent if we wanted to use your personal information for any other purpose. You have the right to withdraw this consent at any time. You can manage your preferences within your account or by contacting customer services.
How we use your personal information
We collect personal information for three main reasons:
To improve and maintain performance: to provide you with the best possible user experience, we need to make sure that our products and services work as they should.
To communicate product changes and offers: we want you to get the most out of our products and services, including showcasing our latest content and newsletters. You can change your preferences at any time by contacting our Privacy Officer at contact@themobileknowledge.com.
To provide requested training: we want to offer you our best training events to better understand our products and technologies related.
Who we share your personal information with
We are not disclosing your personal information with any third party unless to comply with applicable laws, court orders or other valid legal processes, and to enforce or apply our terms of use, any subscription agreement, or any of our other rights.
How long we retain your personal information
A summary of how long your personal information is retained can be found below: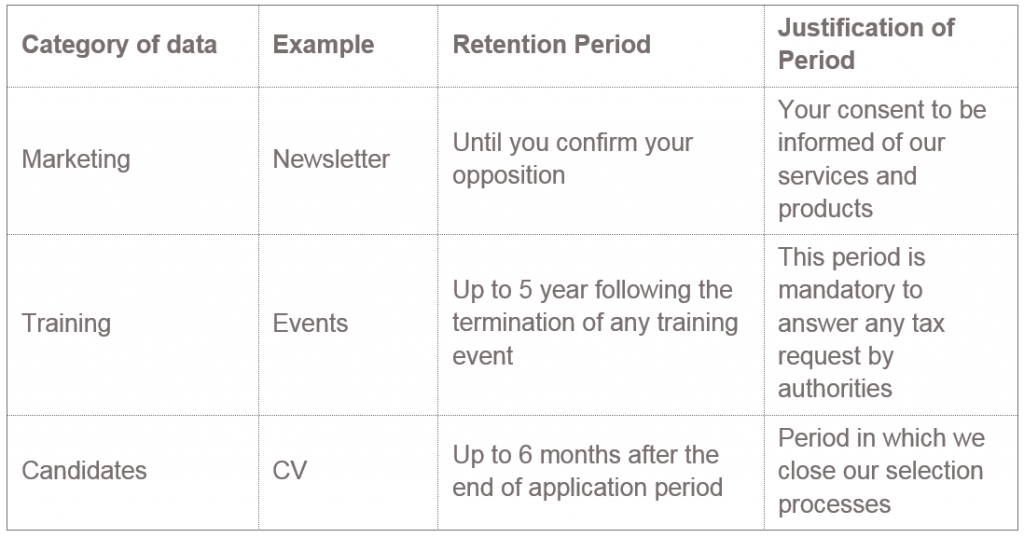 It is sometimes necessary for us to keep your personal information for longer periods of time, for example:
If there is a statutory requirement to retain it;
If we require the information for legal reasons or there is a legitimate business need for us to retain it;
To ensure we do not contact you if you have asked us not to.
How we keep your personal information secure
We have appropriate technical and administrative security measures in place to help ensure that our users' information is protected against unauthorized or accidental access, use, alteration, or loss.
Your rights
Under data protection laws, you have rights as an individual in relation to the personal data we hold about you. These rights include:
The right to object to direct marketing;
The right to access the personal data that we process about you;
The right to request the deletion of your personal data;
The right to request the rectification of your personal data.
You can exercise these rights by contacting our Privacy Officer at contact@themobileknowledge.com.
Where this Privacy Policy applies
Personal information is collected by Avant Studio Proyectos, S.L. and all its subsidiaries.
Our Sites could contain links to third party websites which are not subject to this privacy policy. We are not responsible for their content, use of personal information, or security practices.
If you have a query regarding the processing of your personal information, please contact our Privacy Officer at contact@themobileknowledge.com.
Changes to this Privacy Policy
This policy is effective from 02/10/2018.
Any changes we may make to this privacy policy will be posted on this page. If changes are significant, we may choose to notify you by email or to clearly indicate on our home page that the policy has been updated.
Our commitment is to help our customers be faster, stronger, more advanced, more connected, more innovative and more profitable