Product
Sleek design for multiple NFC-secure applications geared to wearable devices manufacturers.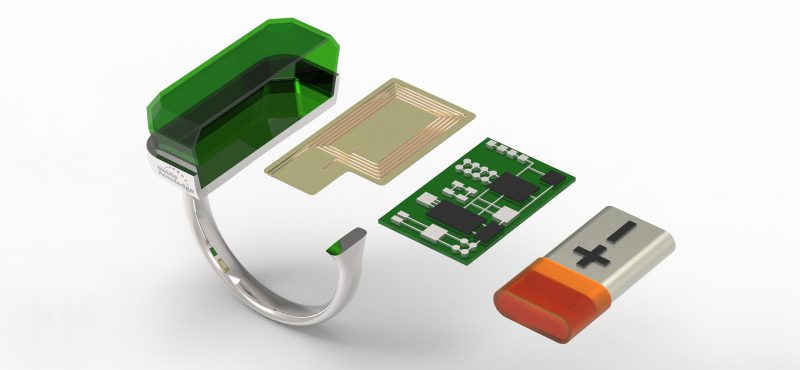 MK100 is a reference platform with full integrated NFC-secure functionality, and small enough to be embedded in a ring.
State-of-the-art technology from NXP Semiconductors
MK100 features NXP Semiconductors PN66T IC, a tamper-proof, banking grade secure element + NFC controller, to enable the easy provisioning of any secure contactless applications. This NFC secure element is already present in many NFC smartphones supporting payment applications.
White label platform for payments
Pay at any contactless point of sales worldwide.
EMVCo pre-certified platform
Include pre-certified VISA, Mastercard, Amex, Discover and PBOC applets.
Access to the hundreds of banks that have already rallied the Payment Network Operators' tokenization platforms on a continually growing worldwide basis.
Easy secure provisioning
Using the PN66T allows OEMs to benefit from NXP's Open Secure Element (Open SE) functionality. This enables the device to be securely OTA (Over-The-Air) provisioned from the Tokenization Service Platforms (TSP) of the Payment Network Operators (PNO), via the bluetooth connection of the customer's smartphone to their wearable device.
Avoid expensive set-up and maintenance of an SEI-TSM provisioning platform.
Open SE includes Loader Service and MIFARE® Open Platform functionalities.
Multi-application ready
Whenever you want, download all your preferred payment cards to the device. Add your transport, office or gym access cards. And you manage them all from your mobile phone companion application.
Multiple banking cards in one device.
Multiple MIFARE® cards in the same device. Both MIFARE® Classic and MIFARE® DESFire EV1 supported.
Additional applets such as authentication credentials (eg. FIDO).
MK100 brings a white label platform for hosting multiple payment, transport and secure access NFC cards in a light, compact module small enough for a ring!

Outstanding RF performance
Very small 10x15 mm state-of-the-art antenna design
EMVCo pre-certified reading range
No additional booster needed
Long battery life
Power optimized architecture
Up to 6 months battery life between charges
The low consumption offers the option to use a coin-cell non-rechargeable battery
Small form factor
Highly integrated PCB (10x15 mm)
Different form factors possible for final product design (watch, strap, key-ring, jewelry, ...)
Wireless battery charging innovative - cost optimized solution
No additional wireless charging IC, since the solution is using the same NFC antenna for innovative cost-optimized charging from a simple NFC reader device.
Other optional functionalities
Fingerprint authentication
Vibrator
LEDs
Sensors
Accelerometer
The integration of contactless secure applications with wearable devices is a very significant new business opportunity for hardware and service providers.
MobileKnowledge's extensive experience on mobile NFC applications, plus its in-house testing facilities, allows it to help OEMs with certification, software development, and final implementation of MK100 in any wearable device.