Product
A set of hardware, software tools and documentation to prototype your idea and accelerate the time to market of your new UWB-based solution
1000

€

*
Although UWB communication has raised attention in recent years, it is not a new technology, having been introduced in the early 20th century. However, lately UWB has gained importance, pushed by the association of several major mobile phone OEMs and technology providers to set a new standard based on UWB technology. The objective is to provide a seamless and secure user experience such as an enhancement of the NFC use case and its demonstrated benefit for consumer. The expectation to have UWB integrated into a large number of mobile phones also creates opportunities to accelerate the development of IOT solutions featuring other UWB benefits such as an indoor navigation system.
As an example of this accelerating take off, Apple included UWB in its iPhone 11 launch in Sep. 2019, Volkswagen introduced UWB on ID.3 and Golf models in Dec. 2019, and, more recently, Samsung announced its UWB powered Galaxy Note 20 Ultra.
Adding UWB technology to your device requires expertise and knowledge. With our MK UWB Kit, we offer a packaged and structured approach to minimize your effort in building your selected UWB device and application.
The MK UWB Kit is a comprehensive set of hardware and software tools, and documentation to prototype your idea and accelerate the time to market for your new UWB-based solution.
Experience the UWB technology with ready-to-run demonstration apps, development boards and SW libraries to start developing your own UWB application with minimum effort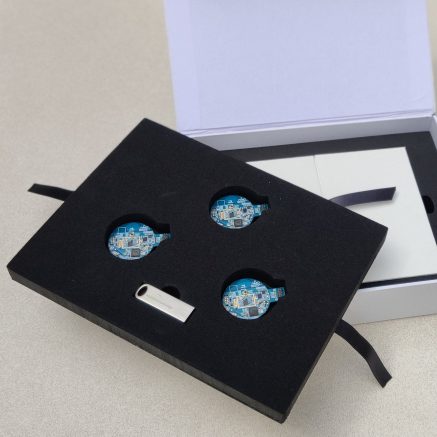 3x UWB Tag boards
1x UWB Shield equipped with an Antenna board where a UWB Module is soldered
1x Additional UWB Module integrating NXP's UWB chip
1x Additional Antenna board to enable use of custom UWB antennas
USB flash drive with software and documentation to help you develop your own solution based on the HW and SW provided
Cables and connectors: USB to microUSB OTG adapter, microUSB to USB-C adapter, and USB cable
Any additional support from MobileKnowledge in connection to the MK UWB Kit is not included in the price of the kit (ref. MK UWB Kit license agreement #6.2 and #6.3). Any required support shall be subject to a specific and separate agreement ref section "MK Services".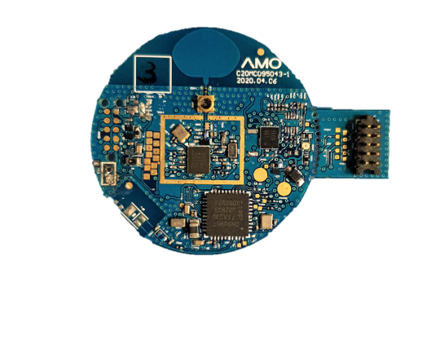 UWB Tag
Autonomous, battery-powered UWB device that features NXP's UWB chipset Trimension SR1xxx and a BLE-enabled microcontroller, enabling all kinds of tracking and localization use cases.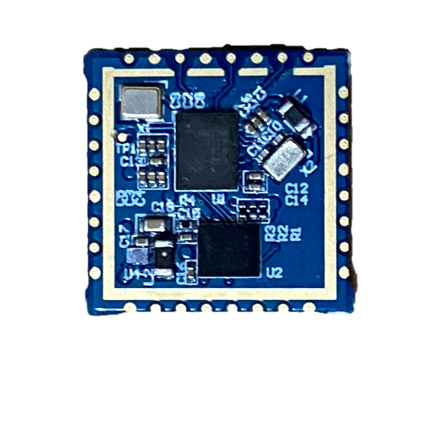 UWB Module
Compact UWB transceiver based on NXP's UWB chipset Trimension SR1xxx. It supports multiple RF configurations with off-board components, allowing a flexible front-end design.
It allows a quick integration of UWB capabilities into any design by using it as a component.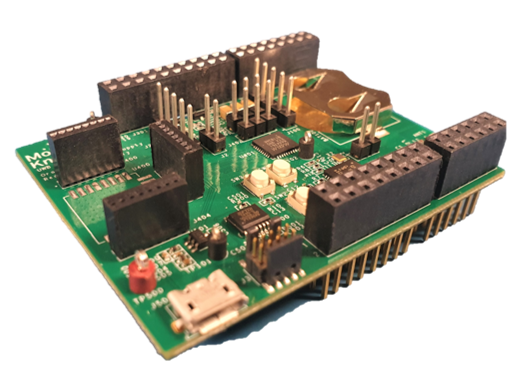 UWB Shield
Flexible platform to develop customized UWB systems. As the central part of the UWB Kit, it is used as the interface between the UWB module and external devices. It can also be plugged to other development boards thanks to its Arduino-compatible expansion headers.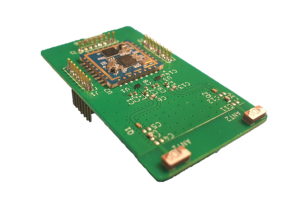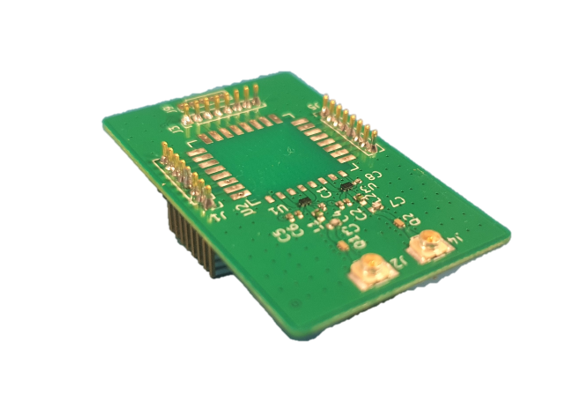 UWB Antenna boards
UWB Module compatible PCBs which allow both the use of alternative UWB antennas and RF frontend, with an easy connection to the UWB Shield.
Two antenna boards are included in the UWB Kit:
Antenna board + UWB Module: Ready-to-use solution that features two SMD antennas, enabling 2D AoA reading.
Antenna board with RF connectors: Allows the use of alternative UWB antennas via its dedicated UFL connectors.
Besides the hardware components described, the UWB Kit also comes with a USB drive containing software and documentation resources.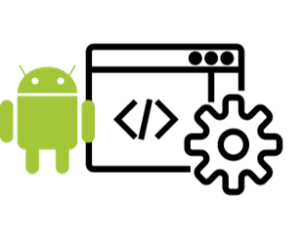 The UWB Android SDK allows enabling and developing UWB applications for Android devices. It allows controlling the UWB Tag through BLE and emulate UWB function of a mobile when connected to the UWB development board.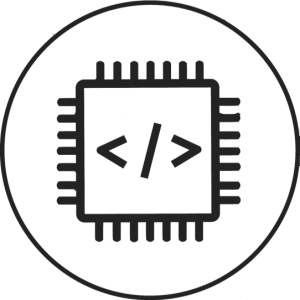 The Device SDK is the software package that allows enabling and developing applications for devices integrating SR1xxx UWB modules. It is built on top of the NXP SW package and provide access to specific logic and commands to personalize the application.

Demonstrative FW and Android applications built on top of the Mobile and Device SDK
Documentation
Full set of documents to help you experience the UWB technology using off-the-shelf demo applications included in the kit and use the development platform and libraries to create your own applications.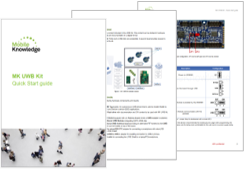 UWB Kit Quick Start Guide
UWB Module datasheet
UWB Shield User Guide
UWB Android app User Manual
UWB Device SDK Guide
UWB Mobile SDK Guide
Build your own UWB solution
MK UWB Kit Evaluation: Evaluate MK UWB Kit demonstrative applications, and identify the key technologies involved.
Get to know the UWB capabilities in less than a blink of an eye with our demos and test applications.
MK UWB Kit Development: Customize your firmware or mobile application. Integrate new hardware or peripherals using MK UWB Kit development board.
The UWB Kit comes with a complete development set to ease the integration and testing of the UWB Tag and UWB module into your own solution.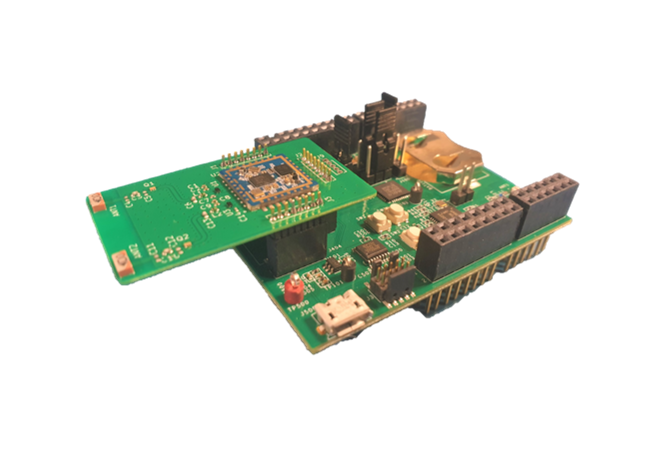 Access to MK Services: Accelerate further your time to market by getting support from MK in the design and development of your solution.
Development and customization of antenna boards. Improve the RF performance of your solution with the right tools and expert support
Porting of SDK into a specific MCU platform
Specific HW development based on specification. Knowledge and experience to help you design robust, secure, and reliable systems.
Support integration of SE
Performance enhancement with calibration methods and sensor fusion
UWB use case development: FW, mobile application and back-end solutions
Mobile

Knowledge

MobileKnowledge is a team of HW, SW and system engineers, experts in smart, connected, and secure technologies for the Mobile and IoT worlds. We are your ideal engineering consultant for any specific support in connection with your IoT, UWB and NFC developments. We design and develop secure HW systems, embedded FW, mobile phone and secure cloud applications.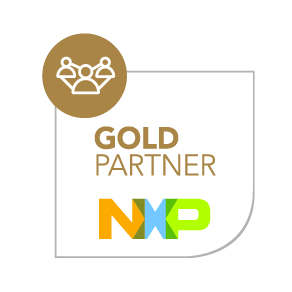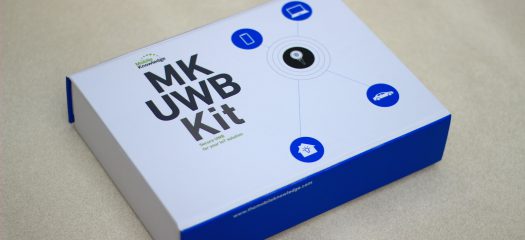 MobileKnowledge is pleased to announce the release of the MK UWB Kit, a set of hardware, software tools and documentation to prototype your idea and accelerate the time to market of your new UWB-based solution.